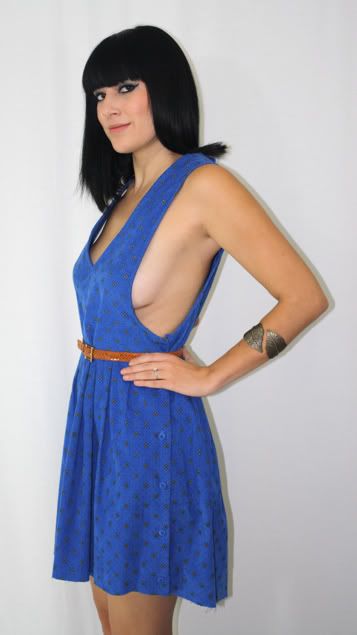 If you're a regular at our store, you may remember this charming corduroy mini we sold last month.
Today I woke up at 2 PM and wiped the Nightquil haze from my eyes. I'd gotten sick over the break, which might explain my blog and store's activity slump. Still, no stuffy nose was going to keep me from popping on my store's feedback page and ensuring the peace. That's where I discovered this little gem:
"really cute but i definitely payed too much for it."
This was in response to the corduroy mini (above). Even though her feedback was marked "Positive," I couldn't get over that little barb at the end. What did she mean by that? Was she calling the dress cheap? Was she lamenting that, swept up in the moment, she spent more money than she would have liked to? Was she just disappointed?
When it comes to customer feedback, I'm sort of the annoying A-student who can't handle anything less than satisfactory. I really aim to please, try to accommodate those with special requests, and communicate quickly.
For 600 transactions, I had 100% positive feedback until one customer from England purchased 5 dresses and claimed she didn't receive any of them. I reminded her First Class International packages can take longer and sometimes get held up at Customs. She didn't believe me. In fact, she didn't believe I even shipped her dresses.
It was one of the WORST experiences in my business' short history. I spent weeks, supplying emails, receipts, bank statements and customs forms to eBay's resolution center. All the while, the buyer continually berated me, calling me a liar who "stole her money and kept her clothes."
After 8 grueling weeks, eBay closed the case in the buyer's favor. I had to issue her a refund for all 5 dresses that I no longer had, PLUS shipping that I'd already paid for. If that wasn't bad enough, because she purchased 5 items, she was able to leave one, two, three, four, FIVE... negative feedbacks. Overnight my 100% positive feedback turned to 99.5% and I lost my Top-Seller status.
A month later, I received a package from England marked "Return to Sender. Recipient did not try to pick up from Customs." Unbelievable.
Jumping back to today and the "I payed too much" barb...
I decided to check out this buyer's "Feedback Left for Sellers" page, which showed a list of her most recent feedback left for other purchases. And quickly, a pattern emerged:
"shoes came quickly but look cheaper than i expected"
"great item, had some issues with shipping time"
"the dress wasn't my fave by quick shipping, would buy again!"
EVERY positive feedback had a barb! This was the Chronically Dissatisfied eBay Shopper, a not-urban legend that sellers dread. No matter what the CDES bids on (usually on impulse), this strange creature loves to regret it afterwards. Not so much so that they would ask to return it, but definitely enough to voice on their feedback. In essence "I payed too much" (no, I won't correct the typo) means "I'm impulsive. I bid on this at the last second and now I don't have grocery money."
For 2011, I invite you all to lead a barb-free year with me. It's too easy to spot the negative in life, especially with our snark-entrenched culture. But you don't have to be negative to be heard. You don't have to be negative to be relevant! Let's do it all again with no regrets; be fat, and be happy. Be beautiful and be excited.
Happy New Year, Peeps.
-Sabrina London