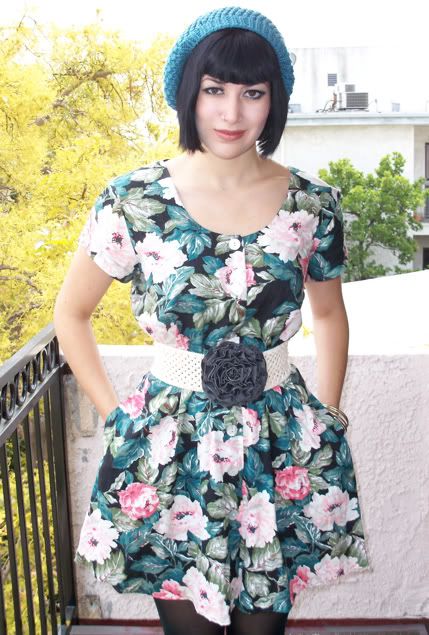 This is our weekly segment on how to wear vintage. We could have called it "How to Wear Vintage" but the idea isn't to simply "wear" clothes. In a perfect world, we'd like you want to step out of your house with a giant swinging erection that says, "I'll take your lunch money and use it to buy porn." Also, we want you to look nice.
So this week on HTROWYCO it's time to discuss the ever-trendy, unapologetically '80s
floral revival dress.
Students of fashion, take out your notebooks.
Oh hello. I didn't see you there. I was too busy feeling powerful with a full-on rager in this vintage '90s grunge dolly floral revival dress. I probably gain my powers through this amazing chestnut-colored wide brim hat. That's because it's fabulous with a capital Fuck You.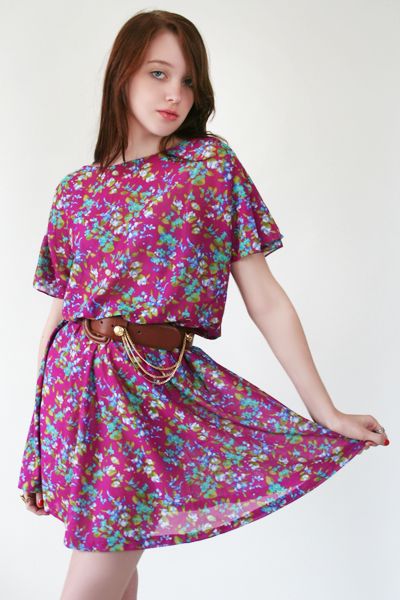 Supersize me. Go for an oversized blouson top with a free-flowing skirt and fluttery sleeves. An oversized fit sectioned off with an I-Eat-Men-For-Breakfast power belt will add years of street cred: on the playground and in life. Speaking of which...
Vintage '80s Black Floral Full Skirt Mini Dress
- Mama Stone Vintage
What we love about this look (besides the Charlotte Gainsbourg-lookalike model) is throwing a bright, bold belt against a muted color palette. Opting for a burst of blue or bright green takes this floral revival's hotness level from '80s to Hades (see what I did there?). Belt it bright, ladies.
Mixing patterns is also an excellent way to modernize your vintage floral frock. One look that gets my fashion-rection rising is to combine stripes with a great floral print. A Warhol-inspired black and white striped leotard under your floral revival gives an eccentric twist to a girly favorite.
The lesson here is: don't be intimidated by a Springtime, uber floral print when what you're really afraid of is some asshole cutting in front you at the subway. By utilizing these tricks, you'll be sure to scare him off with your massive fashion wand. And by that, I mean your pepper spray.
xo,
Sabrina London