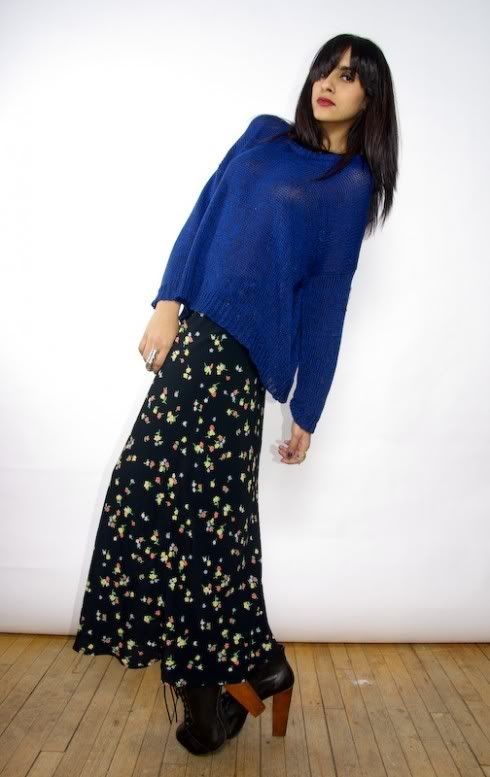 You've probably spent your whole life avoiding them and with good reason. The infamous MAXI SKIRT can dredge up imagery of pilgrims, hippie communes, Utah or that unfortunate 2nd grade class photo (at least if you grew up in the '90s).
While your skepticism may be merited, the maxi skirt is the latest up-and-coming trend here in Hollyweird and I'm here to tell you, if executed properly, a maxi skirt can be downright hot.
HOW TO ROCK IT:
- The 2011 maxi skirt is all about two things: a high-waist and a flowing skirt.
- Opt for a maxi skirt with an elasticized waist so you can wear it on the smallest part of your waist (right above your belly button).
- Add a waist-cinching belt. This will break the massive print or color consuming your lower half, and add visual interest.
- The most popular color I've seen for this trend is black. It's chic. It's versatile. And everything goes with black. Neutrals are definitely the easiest to pull off (nude, charcoal, black). But if you're feeling more daring, try a tartan plaid or ditsy floral (like the one pictured above).
- Go for a gradual A-line. A slinky silhouette is key and you'll want a lightweight fabric that MOVES when you move. A stretch-poly-blend is actually preferable to the standard cotton variety.
- No tiers. No ruffles. No bright colors. No big prints. And while this may come as a surprise: no camisoles.
- What do you wear with your maxi? Our style reconnaissance points to cropped blouses and sweaters as the number one choice. A slouchy cropped sweater paired with a slinky black maxi is the Sinatra of panache. Look for a beautiful draped fit and dolman sleeves are a plus.
- When wearing a maxi skirt, what you put on your feet in almost as important as what you wear on top. If you're not afraid of heights, a pair of T-strap wooden platforms (like above) looks stunning. Try to avoid sandals and flats (with gladiator sandals being the exception).
- Don't forget the accessories. Feather earrings, bracelets, and a long strand necklace will go a long way in playing up your maxi looks' potential.
xo,
Sabrina London